A wonderful day. That's all. English summary under the photos.
Vilken härlig lördag. Jag hade en av mina bästa vänner på besök över natten och vi bara njöt av dagen. Vi vaknade faktiskt tidigt trots att det var lördag och vi hade kunnat sova länge. Men vid sjutiden kände vi båda att vi hade sovit klart.
Ju äldre jag blir, desto mer morgonmänniska blir jag! Till saken hör förstås också tidiga vardagsmorgnar som vänjer kroppen vid att vakna tidigt på morgonen och somna tidigt på kvällen. Men jag tycker om det. Jag vill egentligen inte sova bort halva dagen utan vill utnyttja dagen så mycket som möjligt.
Vi åt en lång god frukost och pratade om allt mellan himmel och jord som väninnor gör, medan dagen vaknade utanför med strålande sol och en klarblå himmel. Inom mig spred sig en härlig vårkänsla. Det underbara solljuset som vi är så svältfödda på så här års värmde mig inombords.
Vi bestämde oss för att göra lite kaffe och te i termos och ta bilen till vattnet i Elfvik för att njuta av vädret.
Nu är det ju så den här tiden på året att skenet bedrar. Det som ser ut som en härlig vårdag när man tittar ut genom fönstret i hemmets varma vrå, egentligen är en väldigt blåsig februaridag med nordanvindar! Oj vad det blåste kallt vid vattnet. Vi sökte skydd på en sten nära stranden som låg lite i lä. Där var det underbart. Solen glittrade starkt, piggt och bländande i vattnet och till sällskap hade vi några svanar som gled omkring alldeles nära oss vid stranden. Vilken avkoppling – och en kopp te smakar så mycket bättre på en sten vid vattnet. Även om det kallnade fort i vinden.
Efter detta åkte vi till simhallen och simmade i två timmar och avnjöt en skön avkopplande stund i bastun innan vi avslutade dagen med lite shopping och fika i Täby Centrum och därefter fika igen hos min väninna. Vi fikar ofta när vi ses! Flera gånger på en dag.
Jag var hemma igen kvart över åtta då jag satte på melodifestivalen. Jag somnade efter första snabbreprisen och fick läsa på nätet när jag vaknade till igen vilka som gick vidare! Jag missade inte så mycket känns det som.
Efter denna fina lördag känner jag mig fortfarande fylld av ny energi. Det krävs så lite!
Nu är jag nyfiken på din helg! 🙂 Och vad gör du för att hämta energi?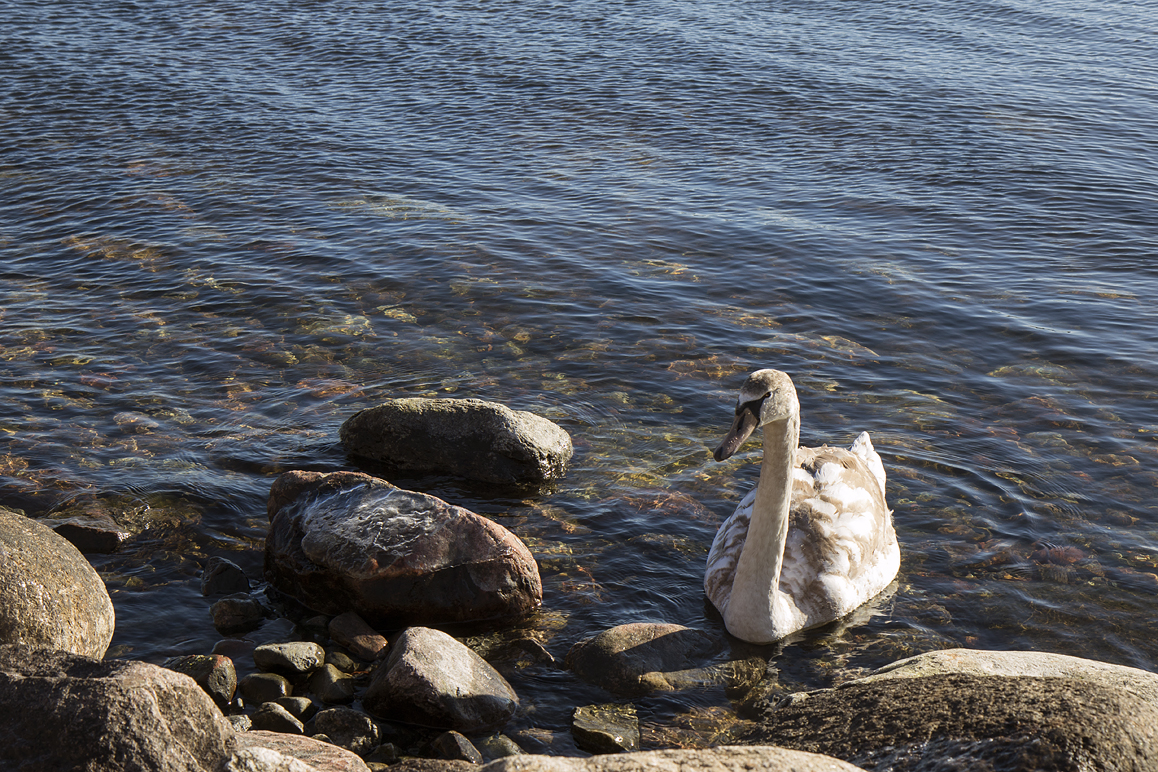 Vi gissar på att denna spräckliga vackra svan är en ungsvan som inte fått sina vita fjädrar än? Eller är det någon annan art? Finns det någon svankännare därute?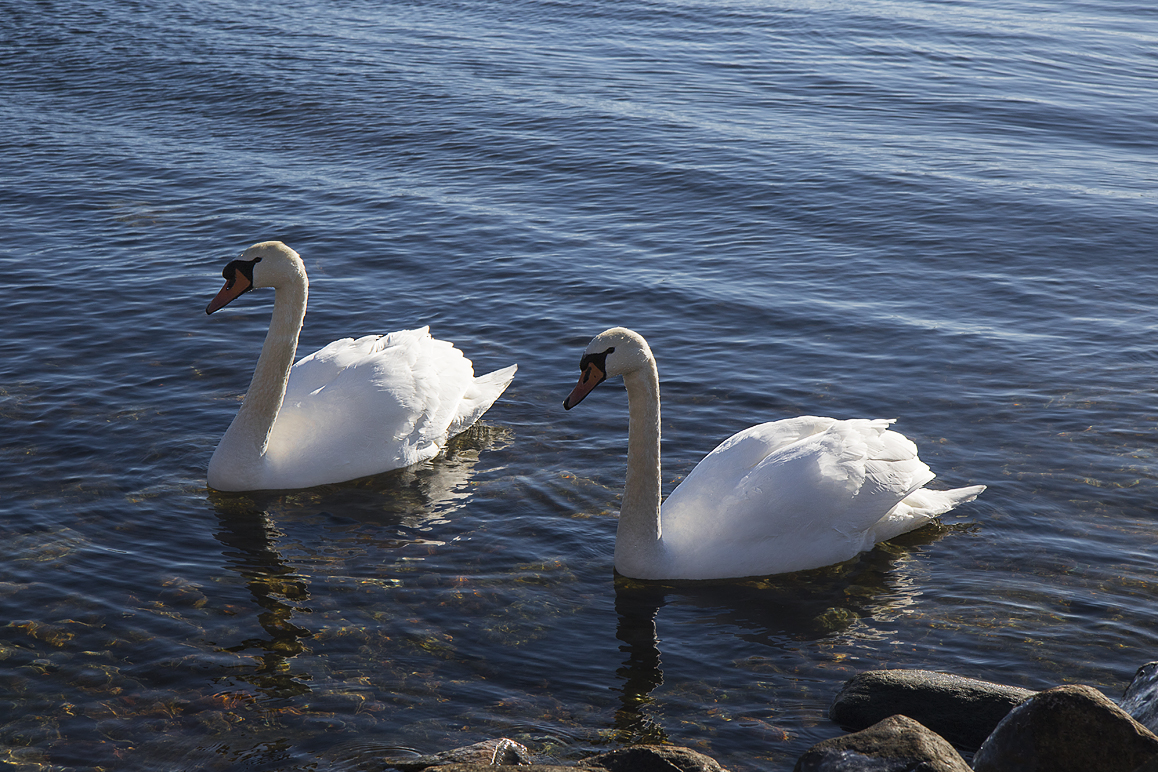 Vi misstänker också att dessa två är föräldrar till "tonåringen" ovan.
English summary
A wonderful day. That's all.
What a wonderful Saturday. I had one of my best friends staying over night and we just enjoyed the day. Even though it was Saturday we woke up as early as 7 am and decided we wanted to start the day.
The older I get, the more of a morning person I become. I don't like sleeping through half the day, instead I want to make the most of it.
We had a long breakfast chatting away about just about everything, as friends do, while the morning was waking up turning into a bright sunny day with a clear blue sky. I was filled with a wonderful sense of spring. A warm feeling inside from the sunlight, that we are so deprived of at this time of the year.
We decided to make some coffee and tea in a thermos and take the car to the water in Elfvik to enjoy the weather.
Only this time of the year the weather is playing tricks with us. It looks warm and springlike from inside. But by the water a heavy northern cold wind was beating us and the water. Brr it was so cold. However we found a spot on the rocky shoreline where the wind didn't catch us. It was lovely! The sun sparkled energetically, strong and blinding, in the water. As a company we had a swan family swimming around just near us. It was so relaxing – a cup of tea never tastes so good as it does from a thermos cup on a rock a windy day by the sea.
After this we did some shopping and "fika" in Täby Centrum before we had some more "fika" at my friend's place. We love our fikas! We usually do it several times a day when we meet.
I came back home around 8-ish pm and watched Melodifestivalen (Swedish preselection for Eurovision Song Contest) and fell asleep halfway through so I had to look up who made through in the papers. I didn't miss much.
After this lovely Saturday I still feel energised. It doesn't take much!
Now I am curious about your weekend. 🙂 And what do you do to feel energised?